DentalEZ Dental Podcast Series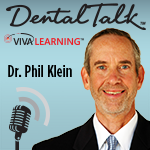 Series: DENTALEZ Welcome to the DentalEZ series of VivaPodcasts. Top KOLs will address clinical techniques, new products and the latest research and development at DentalEZ.
---
All Episodes:
Power Up Your Restorative Practice
CE Credits: 0 CEU
Release Date: 3/8/2021
Dental podcast: Welcome to DentalTalk. I'm Dr. Phil Klein. Technology and restorative material innovations continue to advance everyday dentistry. This podcast will discuss how the tools of our trade can deliver tooth preparation confidence for clinicians while creating an excellent patient experience. We'll talk about the benefits of how incorporating handpiece power into your practice can improve ergonomics in conjunction with promoting patient safety and better clinical outcome.
Our guest is Dr. Lori Trost, who maintains a full time practice in Redbud IL. Dr. Trost focuses on esthetic dentistry with a wellness approach to patient care. She lectures extensively throughout North America, is a clinical evaluator for many dental manufacturers, and translates her knowledge and experience into authoring a wide variety of professional articles.